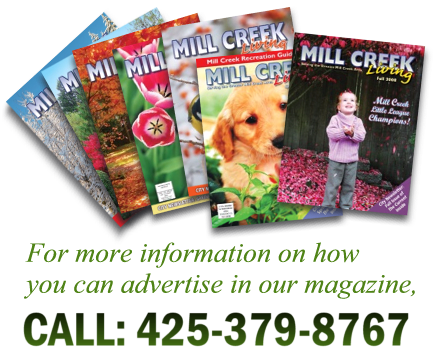 About Mill Creek Living Magazine...
Mill Creek Living Magazine is published quarterly and mailed directly to over 16,500 homes in the Mill Creek and Silver Firs area. Mill Creek Living is a lifestyle magazine featuring stories about local people, businesses and events of interest to our community. We are dedicated to providing interesting and relevant information to enhance our residents lifestyle and sense of community.
Mill Creek Living Magazine is mailed directly to the home where it is opened, read and retained. Our direct delivery guarantees you can reach over 16,400 households in the local community for only pennies per household.
Our magazine features articles about community events, leaders, local businesses & school programs; important and interesting information that local readers want, insuring that your ad will be seen.
An additional 3,000 copies are available for pickup at various locations around Mill Creek.